Making A Difference In Senior Assisted Living With Primavera Gardens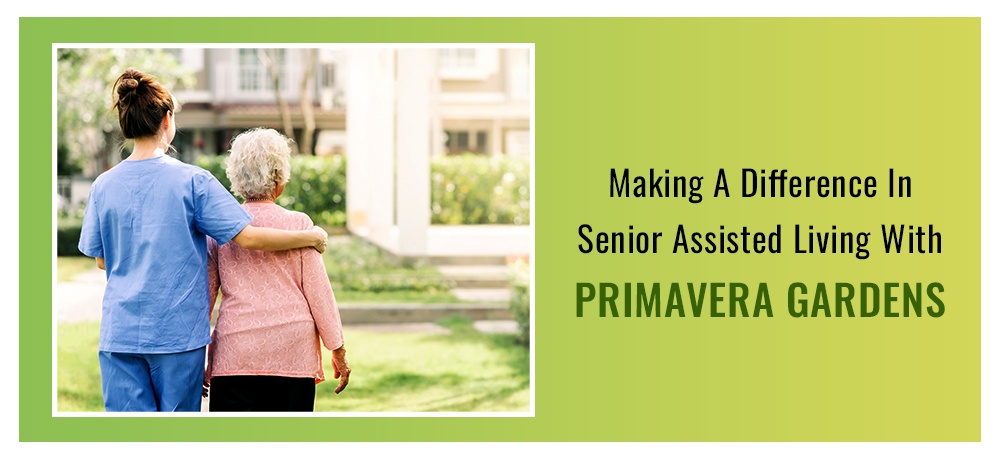 Primavera Gardens is an assisted living facility in Morgan Hill, California. We are focused on caring for all the needs of the elderly residents, with staff on duty twenty-four hours a day. Our assisted living has high standards of quality and responsibility, we especially strive to create an environment of physical and mental well-being.
In the past few months, we have been working hard on building a strong staff. We provide continuous training to our staff and management team to meet and exceed state requirements. We have also been working on upgrading our resident care systems. We have successfully updated the meal menu to include a variety of healthy food options. Lastly, we have also remodeled the building to respond to our residents' needs.
We have received many great reviews from our residents and their families. A few of them touched our hearts.
What can I say about Primavera Gardens? Nothing but the BEST! From the moment I entered the building and encountered the staff, I knew it would instantly feel like home to my mom. All of the staff was welcoming, warm, friendly, and helpful.
This facility is small, intimate, and newly remodelled with spacious rooms and beautiful bathrooms. It was the only facility we toured that included all the extras, except hygiene supplies, in the monthly price. My mom required lots of extra care due to her health, and Primavera Gardens went above and beyond what was required to care for her. They spent so much quality time visiting with her and loving on her that she didn't want to return home! She truly loved it there. I can't thank them enough for making her last days on this earth plant ones. My mother-in-law has been at Primavera Gardens for four months now, and we are so happy that we found this facility. She was declining rapidly in a rehab facility and had to scramble to find a place that could take her, and that would provide the full level of care that she required. Claudia worked with us to get Patti moved there ASAP and made sure all of the correct paperwork was in place, even though we were moving her Christmas week. When she first got there, she was confused, scared, immobile and uncomfortable. After a few weeks, she was up walking around, visiting with the other residents, regaining her abilities to care for herself and was happy and comfortable.
The staff is exceptional. She is clean and healthy looking and loves the staff, and they, in turn, let her know how much they care for her. She enjoys "living with her friends" and feels very safe and happy. For us, it is very important that Primavera is all-inclusive and that there are no surprise charges. She is fed, bathed, given her medication, her hygiene is taken care of, and laundry is done. These are all included in her rental cost.
We are so happy that we found Primavera two months ago. We placed our mother in Primavera Gardens after she had a stroke that left her partially paralyzed. We spent some time looking for an affordable and friendly facility that was close to home. When we discovered Primavera Gardens, we felt that a gift had been handed to us. The facility is just the right size for all residents to get one-on-one care 24 hours a day. The residents are happy and well cared for. Our mother was very happy there because she had energetic and happy caregivers who always took the time to interact with her and make her smile. We appreciated how caring and helpful the administrators were in helping us navigate this emotional journey. We cannot express how grateful we are to all of the staff for taking care of her in her last days; our family was able to relax knowing that someone was always there for her.
We go above and beyond to provide personal and attentive care to our residents and their families. We ensure everyone is treated with the highest level of compassion, care and professionalism. We provide daily customized meals and also make sure they have access to grooming services such as hair styling and nail polish. We do all of this to help lift the spirits of our residents. We also care about giving back to our society and hope to provide more care by donating food to charity. We hope to keep making excellent progress and keep pushing for better and more creative programs.
If you are looking for an assisted living facility in Morgan Hill, California, reach out to us at Primavera Gardens. We provide a high level of personal care, security, hospitality and engagement. Everyone receives personal attention and an individual care plan, which creates a feeling of being at home with family. We offer services like senior / elderly care, personal care, respite care, dementia care, hospice care, medication management, and more to people across San Jose, Morgan Hill, Gilroy, San Martin, Hollister, Milpitas, Sunnyvale, Campbell, Los Gatos, Santa Clara, and the surrounding areas.
Get in touch with us today!
To learn more about the services we offer, please click here. To get in touch with us, please click here or give us a call at
(408) 778-5683.
---
---